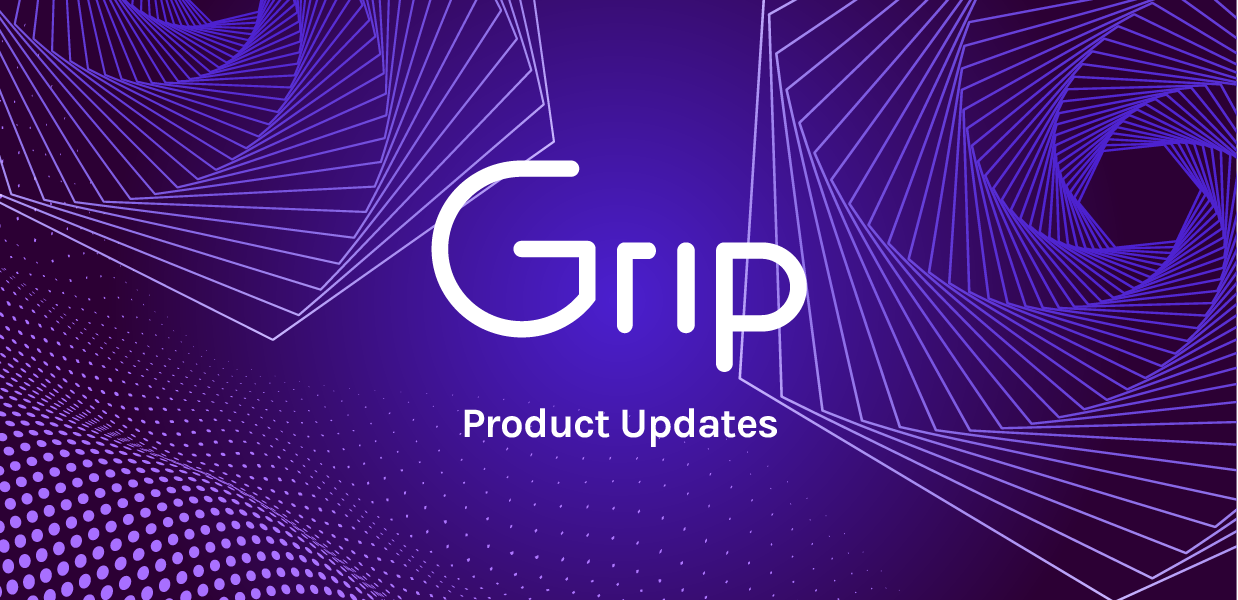 DATE:

AUTHOR:

Abi Cannons, Senior Product Marketing Manager
2021 in Grip Product Releases
DATE:
AUTHOR: Abi Cannons, Senior Product Marketing Manager
A 45,000 year old cave painting, spinach sending emails and man eating whales… While 2021 was never predictable, every month the Grip product teams were hard at work making improvements to our AI-powered event success platform. Hidden amongst the OBVIOUS news stories, there were some fun things going on in the world, too. We bring you a mix of both sets of stories to wrap up the year.
January: a 45,000 year old cave painting
World news: In the Leang Tedongnge cave, on the island of Sulawesi, Indonesia, the world's oldest known cave painting of an animal, a pig, was discovered, a mere 45,000 years old!

Grip news: To kick off the year at Grip, we wanted organisers to better view their successes and more easily prove the value of their events, so we introduced a smarter  'Advanced Insights' page. This gave organisers new interactive graphs, tables and stats.

February: spinach that sends emails
World news: Engineers at MIT announced they'd engineered spinach to send emails when detecting explosive materials in groundwater as part of plant nanobionic research!

Grip news: In February, we wanted to increase revenue opportunities for event planners on the platform, so we added Sidebar Ad Space for desktop, and Session Sponsorship opportunities in the app. 

Not stopping there, we wanted to assist organisers to track, inform, contact or even just help event attendees, so we added third party plug-ins for Google Analytics, Google Tag Manager, Hotjar, Intercom, Zendesk, and Hubspot. 

We knew that exhibitors needed additional features to highlight their wares, so our developers delivered a new 'gallery view' to display their products within their profiles.

And to improve session attendance, we gave attendees the ability to add sessions to their external calendars, such as Outlook, making sure they never miss the content they need. 
March: queuing boats
World news: The Suez Canal finally became a shipping route again, after the megaship Ever Given was freed, allowing the lengthy queue of at least 369 vessels to finally pass through.

Grip news: As spring sprung (sprang?!), we wanted to transform session attendees from passive viewers to active participants, so we added in-session chat, polling and Q&A to the platform, increasing content engagement for all events. 

We understood that chance encounters are difficult to produce in the virtual space but important for connections, so our team boosted the Speed Networking experience, randomly generating meetings between all participants. 

And to make it easier for organisers to talk to their global audiences, we enhanced the multilingual features of Grip, enabling email previews in multiple languages. 
April: lost city discovered
World news: In Egypt, archaeologists announced their most important find since Tutankhamun's tomb - discovery of a lost 'golden city' the 3,000-years-old ancient city of Aten near Luxor.

Grip news: With events hopefully looking to return to at least semi-in-person, at Grip in April, we developed the hybrid components of the platform, giving organisers the opportunity to configure their events in virtual, live, AND hybrid formats. 

We also increased the opportunities for meetings and connections through the platform, giving all participants the ability to meet instantly through video, right from the chat window. 

And to improve insights for our organisers, we gave them the capacity to export and analyse contact detail sharing across the platform, allowing them to make more informed decisions on how best to allow attendees to connect.
May: super blood moon
World news: In the skies on the 26th May, a super "blood" moon, the first total lunar eclipse for two years, was visible across the Pacific. 

Grip news: In May, we wanted to save organisers time and effort when they had large amounts of data to import, so we developed a new CSV uploader functionality.

We'd long realised that it was important for organisers to segment their messaging for those that attended, and those that didn't, so we were able to enhance the email feature of Grip, to deliver the right messaging depending on status. It naturally led to producing a deeper insight into activity across the platform. 

Understanding that participants need to find exactly the content they need, we also improved the Agenda search and filter functionality, leading to better session attendance overall.

June: man swallowed by whale
World news: A US lobsterman survived being swallowed by a humpback whale off the coast of Provincetown, Massachusetts.

Grip news: As we enjoyed some warmer weather at Grip HQ, we gave organisers the ability to better analyse engagement by improving insights for our Speed Networking functionality.

To increase attendance at confirmed meetings, for anyone using our 'Hosted Buyer' (automated pre-scheduled meeting) tool, we built the ability for attendees to add appointments to their own third-party calendars. 

We also improved the meeting reminder emails, making sure they're only sent out when a user has changed their meeting schedule. This meant that delivery metrics are more accurate for organisers, and attendees don't get 'spammed' with duplicate emails. 

In a move to increase connections, we developed the ability for interested 'swipers' to add a message of introduction to their swipes to make mutual interest more apparent from the first interaction. 
July: Bezos in space
World news: Amazon founder Jeff Bezos went into space in the first unpiloted suborbital flight with an all-civilian crew, aboard a rocket developed by his company Blue Origin.

Grip news: As we dreamt of summer escapes, in July we increased the options for driving revenue through sponsorship of the platform, building the opportunity to add a custom image directly on the homepage. 

We also wanted to increase meetings booking by giving users a clearer view of their schedule so we improved the view of the availability calendar for all attendees. 
August: elephant evacuation
World news: In China, a herd of 14 elephants returning home from a 500km (300-mile) trek led authorities to evacuate 150,000 people out of their path.

Grip news: In August, we wanted to help our organisers increase the global reach of their events, so our  team at Grip released an integration with Interprefy, adding real-time interpretation to meetings and sessions! 

We also improved the insights dashboard again, allowing for greater data filtration and giving our organisers clearer detail on meeting acceptance and attendance, along with a timeline of interactions. 
September: more people in space
World news: SpaceX launch the first all-civilian space flight from Cape Canaveral, Florida, for a three-day orbit around Earth!

Grip news: We were excited to launch the brand new Engagement Hub. This feature allowed organisers to centralise all their events in one standalone site, making it easier to promote and share upcoming events. This resulted in more opportunities for revenue and increased attendance rates across event portfolios. 
We also redesigned the navigation bar, allowing organisers to emphasise particular items in the navigation.  

To give organisers better control over recommendations based on session tags, the Grip product team also improved the session recommender to support direct interest from attendees. 

October: totally Meta 
World news: Mark Zuckerberg made the big announcement that Facebook would change its corporate name to Meta. 

Grip news: Another big month for Grip, in October we expanded our content and networking capabilities to allow the creation of workshops and group content spaces through the launch of Grip Roundtables.

We also boosted security to our dashboards with multi-factor authentication for organiser login. 

And we prettied up the platform for our organisers, allowing them to personalise the experience with colours aligned to their brand. We call this 'Platform Theming.' 

November: expensive artwork
World news: In the art world, Frida Kahlo's self-portrait "Diego y yo" (1949) sold for $34.9m in November; a record-breaking price at for a Latin American work at auction.

Grip news: In November, we wanted to build out our in-person app capabilities. Understanding that better navigation of venues means better meeting attendance, we focussed on an integration with ExpoFP, giving Grip some cool interactive floorplans and indoor navigation. 


December: so many legs
World news: December saw discovery of the first true millipede (Eumillipes persephone) with 1,000 legs found down a drill hole in Western Australia. ‍
Grip news: We decided it was time to redesign the top bar of our desktop application, adding drop down menus that include all the languages in which the event was configured. This will fit right in with our new dashboard coming soon...

And that wraps it up for the year.
We look forward to bringing you much more in 2022 and until then, enjoy your holidays!
With thanks to https://www.onthisday.com/events/ for bringing us their news stories.