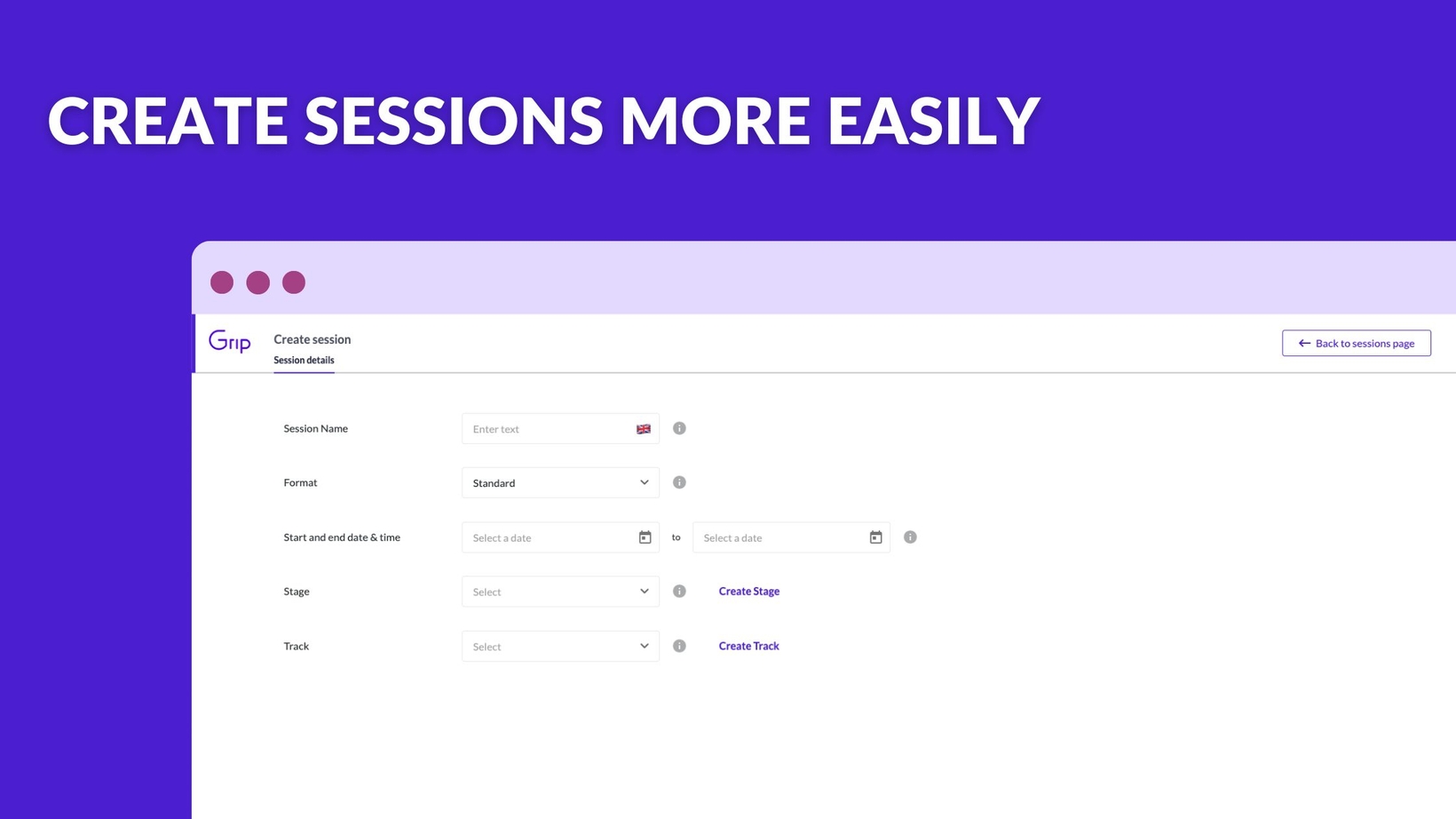 DATE:

AUTHOR:

The Grip team
Dashboard update for creating event programs
DATE:
AUTHOR: The Grip team
Create sessions, content tracks and stages more easily
In this release, we wanted to simplify the creation of your event programs, so here's a redesign of the dashboard to allow you to add sessions, tracks and locations from a single place. You'll definitely notice the difference immediately, and we know you'll love the UX. Apart from the brand new layout, here's what we've added...
Session tags on the web platform for better search and filtering
We've heard your requests, so we've added the ability for you to tag your sessions as you add them to your program. This gives you the ability to add 'keywords' that can be searched and filtered to help your participants to find the content they need with more precision.
Tags can be completely customized
Tags are fully customizable and you can add up to ten tags per session. This enables you to pinpoint subtopics and nuanced or niche content.
Tracks vs tags
You might be wondering about the difference between creating content tracks and session tags, so here's an example...
Let's say you have a 'new technology' track; you might want to use keywords that further describe the precise type of tech being discussed. In the case of Grip, we might be featured in the 'Event Technology' content track, but you could tag our session with keywords such as: AI; Networking; Mobile App; Virtual; Hybrid.
Broaden your event horizons with multi-language session listings
Another brand new feature designed to improve the participant experience is the ability to display session information in multiple languages. You can now add translations to:
Session name

Stage name

Track name

Session description

Session tag
Ready to go
There's nothing extra for you to set up. This release has been beautifully designed so that when you see it, you'll understand it without needing a manual. We look forward to seeing your events flourish, with added value whilst reducing the valuable time you spend in event production.
The new event program dashboard is available to all admin users from Monday 11th June through the organizer dashboard.
For more details on setting up your event program, there's a handy support article to get you on your way, here.
Don't hesitate to get in touch
Have questions or concerns about any of our new features? As always, we're here to help; contact your Project Manager, Customer Success Manager or simply drop us an email at support@grip.events.