Grip Teams Joining Settings will give event organiser's greater control when it comes to the creation of teams. Among other settings, they'll be able to select which participant or item types can join the team, and select the default type of newly added team members.
Teams Invite Type will continue to provide this control for event organiser's, by offering them a choice as to how new team members are added. Currently team admins can add anyone to teams, regardless of whether they're part of the event or not. Organisers can either continue with this, or select one of the following options:
Admins can invite users who are already on the platform. Should the event organiser choose to, they can input a registration link which admins can access from the platform. Admins can then register their team member before the event, before inviting them on the platform.

Admins can invite anyone via email. This is how team invites are sent currently.

Admins can add anyone via external registration. In option 1, admins will have to visit the external registration system before returning to the platform to add the user. Option 3 can be selected for more sophisticated registration systems. When an admin goes to add a member they'll be taken to an external reg system. Once they've registered their colleague, the new invitee will be automatically added to the team. They won't then have to add them from the platform.

Disable invites. Team admins cannot add anyone to their team.
Selecting the Invite Type, under joining settings: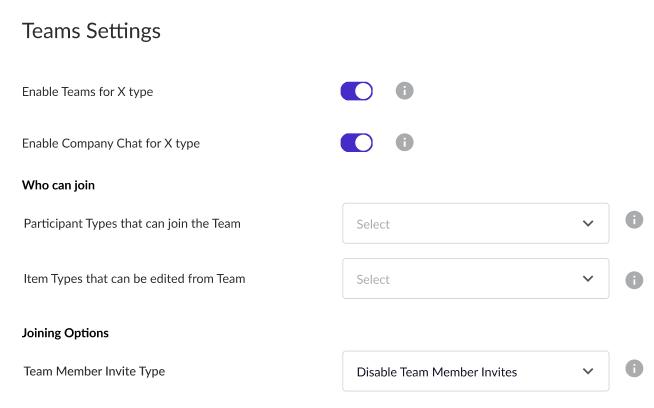 Inviting only users who are on the platform: