Better communication with Grip's automated email enhancements

Abi Cannons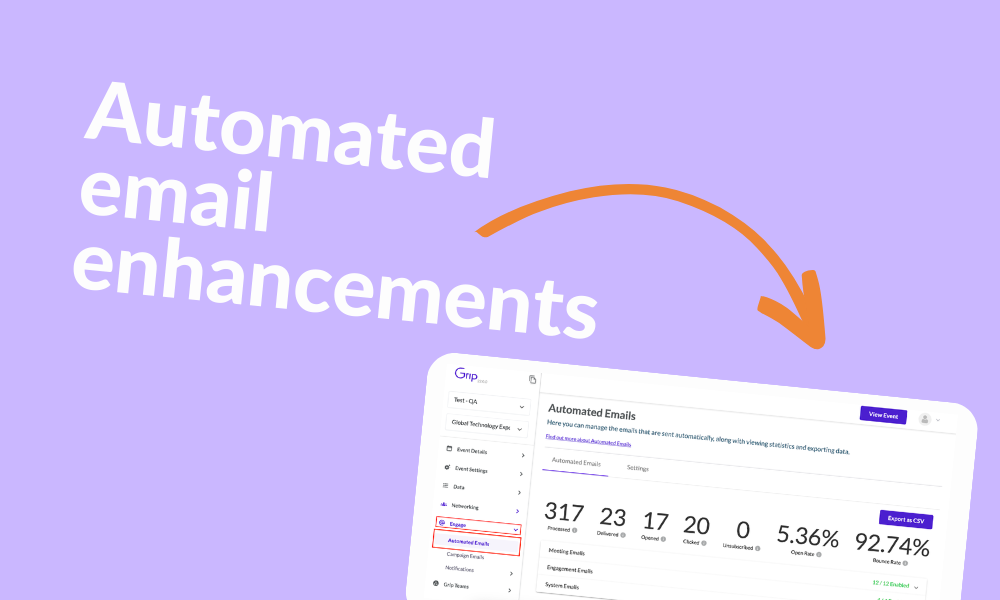 As you know by now, the team at Grip are all about bringing people together - whether it's at trade shows, conferences, or congresses. We understand the power of a well-placed, well-timed email to spark interest, maintain engagement, and boost the overall event experience. So, we've developed something to make your email management simpler, smarter, and more impactful: Grip Automated Email Enhancements.
Personalize your communication
Ever wished for more control over which emails get sent out and when? With Grip, now you can. Our new feature gives you the power to control every automated email individually. It's about crafting the right message, to the right people, at the right time.
Data-driven decisions, made easy
Let's talk numbers. To deliver the best, you need to understand your performance, and we're making it a breeze. You can dive deep into detailed email statistics, and yes, that includes bounce rates. Export your data for easy analysis and reporting. We're giving you the insights to be able to fine-tune your strategies and elevate your event.
Real-time email logs
For the cherry on top, we're rolling out real-time email logs. Watch the journey of each email, adapt on-the-go, and stay ahead of the game. It's about making each email count, from the moment you hit 'send' to the moment it lands in the participant's inbox.
Ready to make your email communications more effective than ever before? Here's to seamless communication, successful events, and creating connections that matter!
What you need to know to get started
The enhancements to automated emails will be automatically available in the admin dashboard from Monday 4th September 2023. It comes as standard with all Grip packages.

To read more on how to use this new feature, check out our support article, here.
Don't hesitate to get in touch
Have questions or concerns about any of our new features? As always, we're here to help; contact your Account Manager or simply drop us an email at support@grip.events.