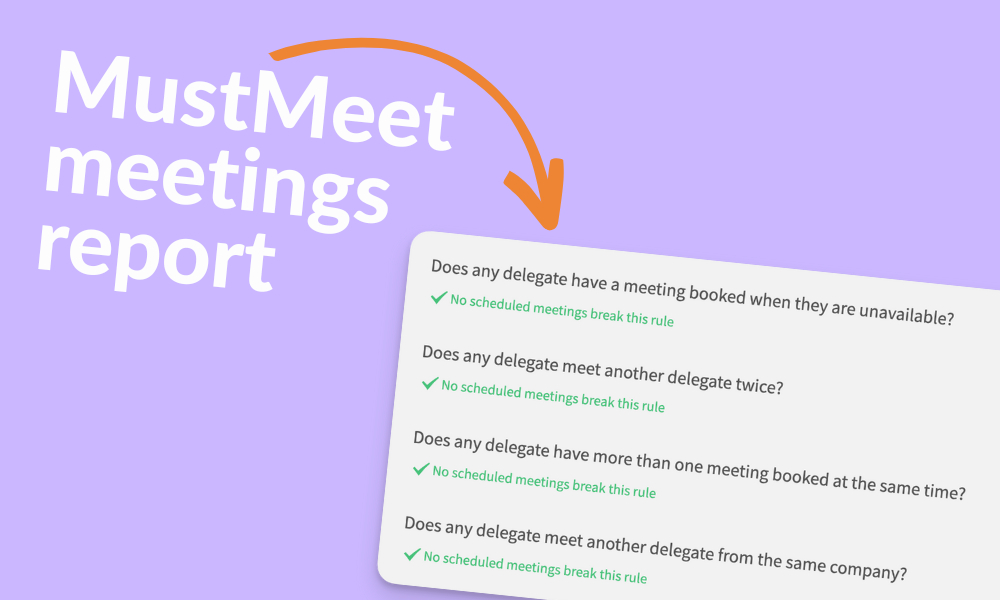 DATE:

AUTHOR:

The Grip team
Take control of your event's success with MustMeet meetings report
DATE:
AUTHOR: The Grip team
Say goodbye to meeting mix-ups...
We understand that after MustMeet has scheduled meetings, some event organizers would still like to make their own changes and updates. This manual process, however, is prone to errors that can affect the experience of your attendees. For example, meetings for one delegate may exceed the meetings limit or duplicated meetings may be scheduled accidentally. That's why we're adding MustMeet meetings report.
Seamless meeting management
The meeting report helps event organisers make sure manual edits made to MustMeet scheduling don't cause issues. It can flag if a delegate has too many meetings, conflicting times, duplicate meetings, and more. 
What's in it for you?
 Ensure your event runs smoothly: The report allows you to check any adjustments you've made, to make sure they won't negatively impact the experience of your attendees. 

Self-sufficiency: This also helps event organisers be more self-sufficient as they're able to spot any issues in their event and take appropriate action.
What you need to know to get started
MustMeet meeting report will be available in the admin dashboard from Tuesday 28th February. You must be designated an app admin to use the feature.

To read more on how to use this new feature, check out our support article, here.
Don't hesitate to get in touch
Have questions or concerns about any of our new features? As always, we're here to help; contact your PM, CSM or simply drop us an email at support@grip.events.