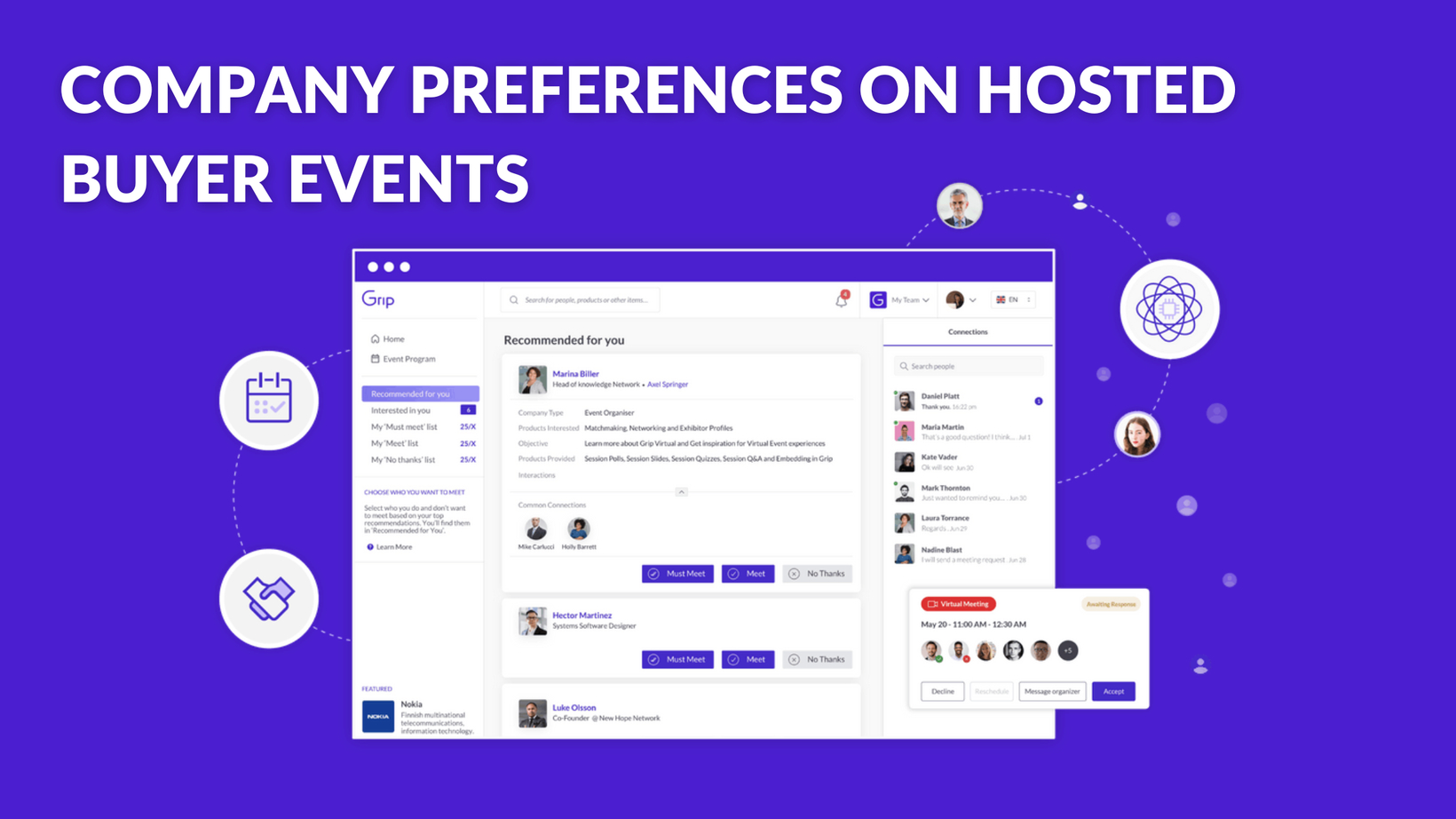 DATE:

AUTHOR:

The Grip team
Companies now available as 'Must Meets' on Hosted Buyer events
DATE:
AUTHOR: The Grip team
Participant preferences now include companies
Grip's Hosted Buyer (Must Meet
) capabilities allow participants to make preferences regarding who they want to meet at an event, helped by Grip's world leading AI-powered recommendations. Once preferences have been made by both suppliers and buyers, Grip's AI automatically populates everyone's schedules with the best meetings possible.

Most Hosted Buyer events in Grip are set up to allow participants show interest in one another (e.g. buyers to exhibitor representatives) but now, Grip also allows participants to show interest in companies, which works in the following way:
'Meet', 'Must meet' and 'No thanks' action buttons are displayed on a company's profile, which attendees can use to make their preferences

The company's representatives can make their preferences towards attendees

Meeting scores are based on the preferences made between the attendee and the company and any preferences made by the company's representatives towards the attendee

Should there be a high enough score generated to warrant a meeting, a meeting is automatically scheduled between one of the company representatives and the attendee
An easier user experience that avoids duplication of meetings
With meetings arranged between companies and participants, there is less chance of matches being made with multiple representatives of a company over the course of the event, saving time on meeting rescheduling.
What you need to know to get started
Company preferences are available to set up within Grip's Hosted Buyer (Must Meet
) events from Monday 10th October 2022.

To read more on how to use this new feature, check out our support article, here.
Don't hesitate to get in touch
Have questions or concerns about any of our new features? As always, we're here to help; contact your PM, CSM or simply drop us an email at support@grip.events.