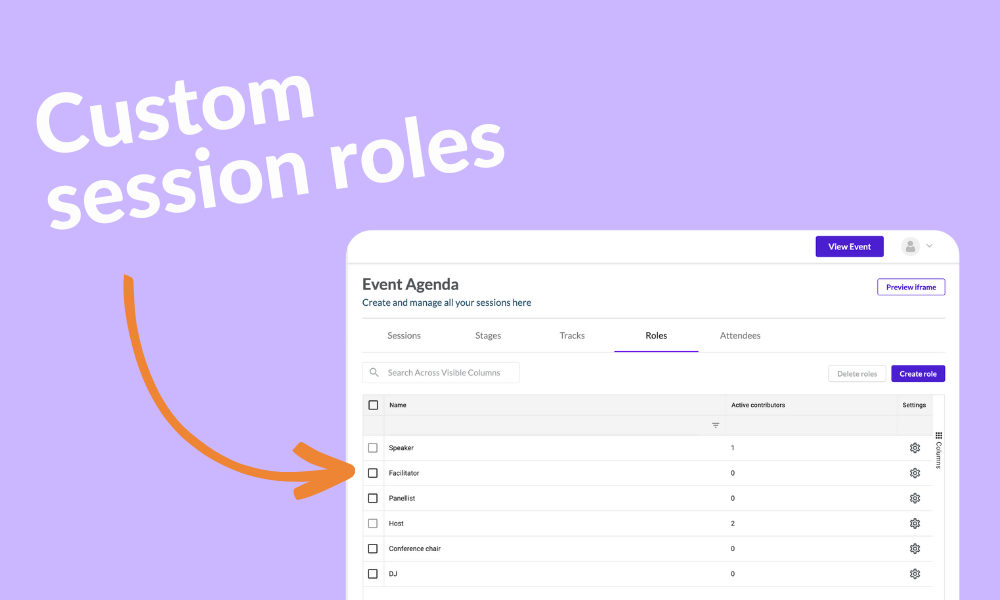 Create the perfect program
With Grip's new custom session roles feature, event organizers now have the ability to create roles that align perfectly with your event. Whether it's a unique position, a specialized responsibility, or a personalized title, our session roles feature allows you to customize and assign these roles according to your requirements. With this functionality, you can more easily manage and organize session contributors.
A session contributor is not necessarily a speaker
In the past, our event agenda only provided the option of "speaker" for each contributor to the session. However, this could be confusing for attendees as not everyone contributing to a session is necessarily speaking.
Perhaps you have a host and two opposing debaters on a session. Maybe a facilitator and some panelists. Possibly you have a DJ to open and close the show. You can create custom roles for all of these to appear as they should within the event program.
Reorder your session contributors
The power of customization doesn't stop there. With Grip's new custom session roles, you will have the ability to re-order the session contributors listed, ensuring that the hierarchy and sequence of speakers or participants is accurately represented. Attendees will have a clear understanding of the session dynamics and who is taking the stage at any given moment.
What you need to know to get started
New custom session roles will be automatically available in the admin dashboard from Wednesday, 3rd August 2023. It comes as standard with all Grip packages.

To read more on how to use this new feature, check out our support article, here.
Don't hesitate to get in touch
Have questions or concerns about any of our new features? As always, we're here to help; contact your Account Manager or simply drop us an email at support@grip.events.