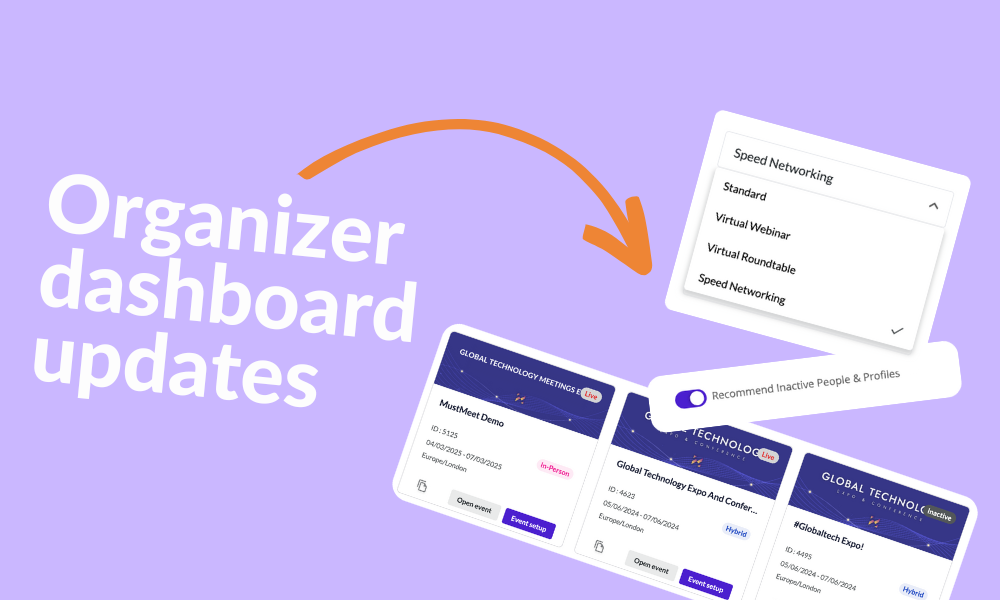 Striving for a better organizer experience
Sometimes it's not about building new features, it's about improving what we've already built. A big focus for our product team is to simply make Grip easier to use for our customers (and our own delivery teams!). We want to save everyone time getting to the value of using Grip.
The little things that make a big difference
An ongoing project, we want to give our customers more control over their own dashboards. The collection of small modifications and improvements to various areas of event setup will save organizers valuable time.
All standard dashboard users will be able to create

virtual speed networking sessions

.
We love the idea of inviting new attendees to meet others in the run up to an event, allowing them to break the ice before they arrive.
MustMeet warnings and errors are now more comprehensive, making more sense to all users.
This allows quick resolution of any suggested actions, without waiting for the Grip team to step in.
The toggle for 'Recommend inactive people and profiles' toggle is now ON by default for newly-created events, to align with our recommended event setup.
This means that recommendations are not limited to participants that have already logged into the platform; those eager beavers that log in first won't be limited (unless you want them to be!)
Events within an application are now listed in order of event date, from newest/furthest away to oldest, and with Inactive events always at the bottom.
This makes it easier for our organizers to get straight back to business when they log into Grip.
For virtual and hybrid events on Grip, there is an additional column "Virtual Meeting Arrival Time" which allows organizers to see precisely when each attendee entered the Whereby/Vonage virtual meeting.
Great for getting to the bottom of what really happened during those all important meetings.
What you need to know to get started
All the organizer dashboard improvements will be automatically available in the admin dashboard from Wednesday, 3rd August 2023. They come as standard with all Grip packages.
Don't hesitate to get in touch
Have questions or concerns about any of our new features? As always, we're here to help; contact your Account Manager or simply drop us an email at support@grip.events.