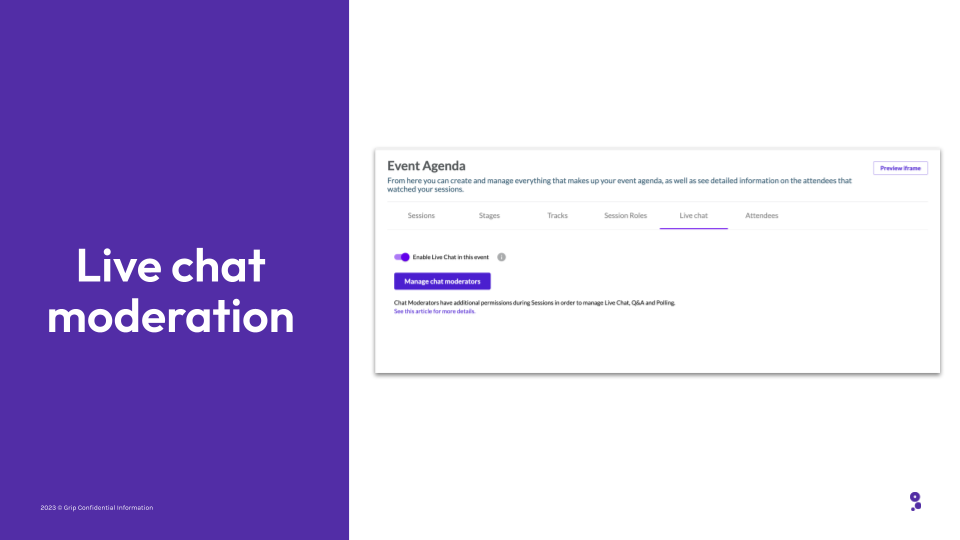 Moderate your live event chats more easily
We all thrive on engaging conference sessions that ignite passionate discussions among participants. However, when these conversations become overly intense, it becomes crucial to have live chat moderation in place.
Today we introduce a more streamlined approach for our event organizers to assign chat moderators, throughout their event programs. This way, they can ensure that the live event chats always stay within the boundaries they've set.
Managed seamlessly within the event agenda, this setting migration empowers organizers to maintain a balanced and respectful atmosphere, fostering meaningful exchanges among attendees.
What you need to know to get started
The new live chat settings will be automatically available in the admin dashboard from Tuesday 3rd October 2023 and is included in all packages.

To read more on how to manage live chats within Grip, check out our support article, here.
Don't hesitate to get in touch
Have questions or concerns about any of our new features? As always, we're here to help; contact your Account Manager or simply drop us an email at support@grip.events.