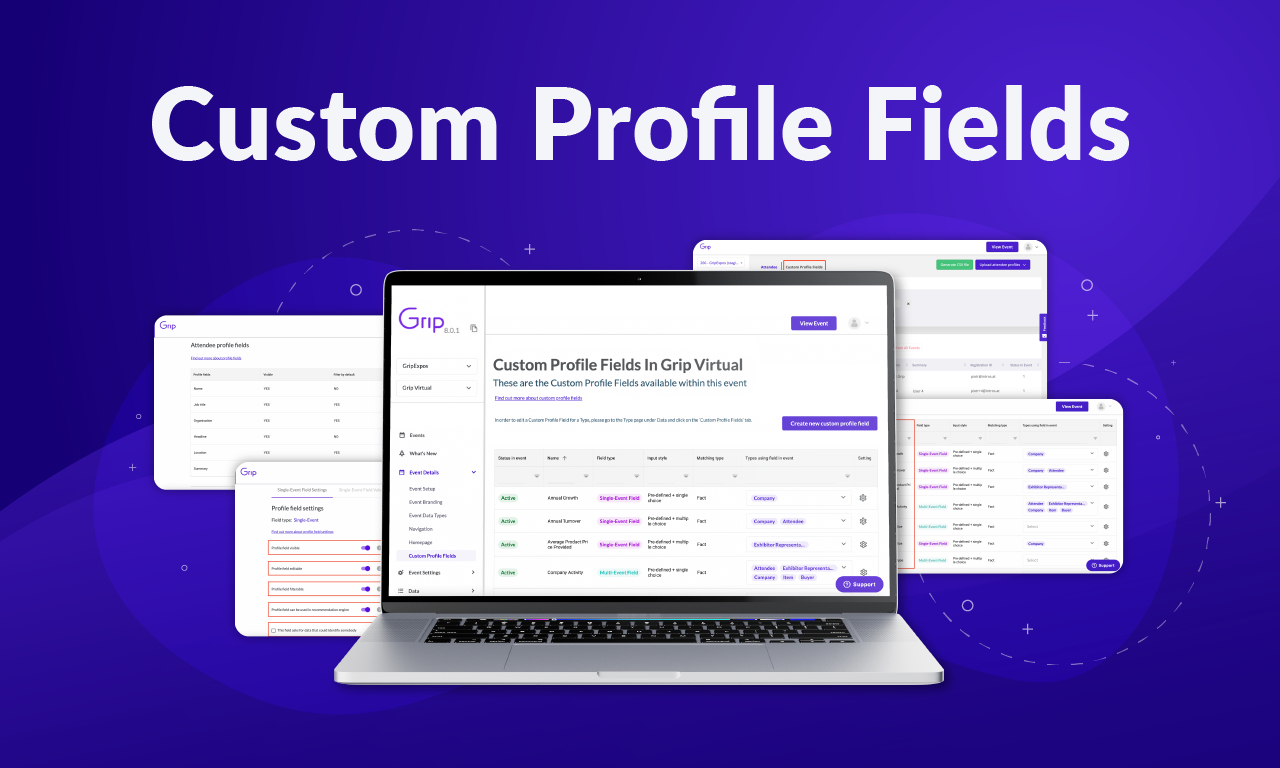 DATE:

AUTHOR:

The Grip team

RELATED ROADMAP ITEMS:
Create your own custom profile fields
DATE:
AUTHOR: The Grip team
Custom profile fields are now in your hands
Profile fields (previously known as metadata) form the bones of Grip and help to kickstart what Grip's AI does best; creating personalised matches and recommendations for your event participants. Before now, these profile fields were inaccessible to you as organizers, remaining in the realm of our technical project teams. But not any more!
Custom profile fields will allow you to create your own data points, giving you more control over the recommendations that are made at your events; these profile fields can be added at either single event level or multi-event (application) level.
For example:
- Single event level profile fields might be booth/stand numbers that are specific to one event
- Multi-event level profile fields might be company names; information that might be replicated over multiple events
Over multiple events, custom profile fields are even cooler
The thing everyone at Grip really loves about this release is that when you create profile fields at application (multi-event) level, they can be assigned to 'Types' (e.g. speakers, sponsors, attendees.) In practice, this means that when you add those 'Types' to your next new event, those custom profile fields will automatically populate. A huge time saver!
What you need to know to get started
Custom profile fields are available to all admin users from Monday 13th June. Note: that in order to access the multi-event settings, you must be designated an admin on your full Grip account.
For more details on how to set up your own custom profile fields, there's a handy support article to get you on your way, here.
Don't hesitate to get in touch
Have questions or concerns about any of our new features? As always, we're here to help; contact your PM, CSM or simply drop us an email at support@grip.events.