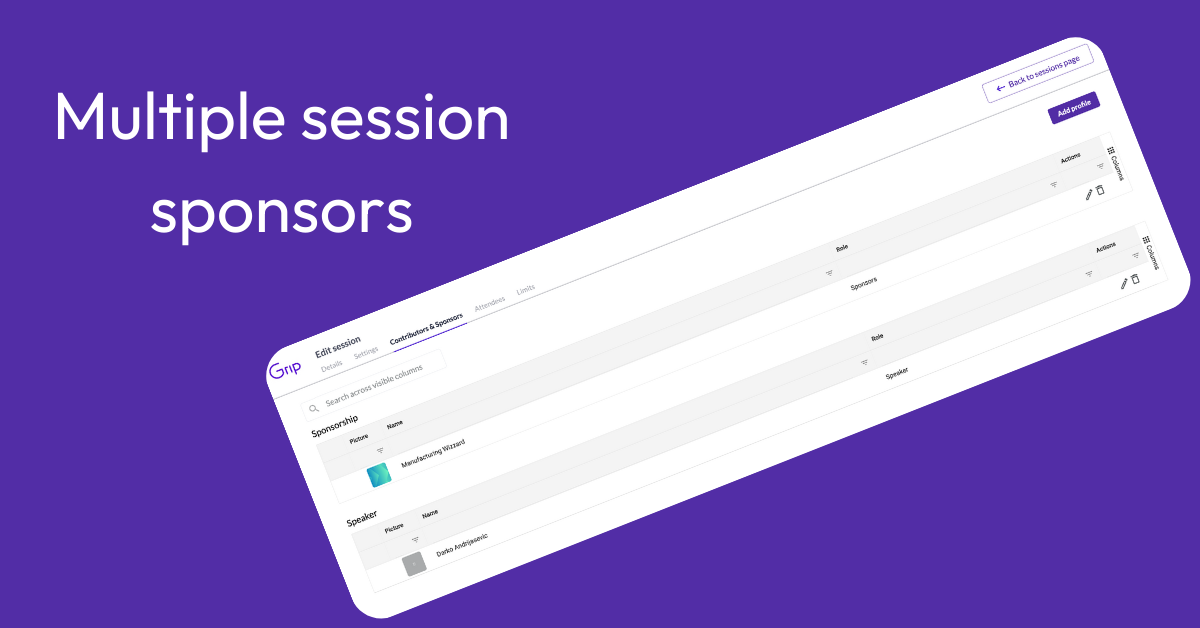 Drive more revenue with multiple session sponsors
We're taking a fresh spin on Session Roles, crafted with the finesse you've come to expect. Now, you can pair up multiple sponsors with specific sessions. It's the perfect trifecta: more revenue, more exposure, and a supercharged attendee experience.
🎯 For the go-getters (Event Organizers):
We're moving from one-sponsor-per-session to a dynamic marketplace where multiple sponsors can bring their A-game to your sessions. More sponsors, more fun, more funds.
🌟 For the scene-stealers (Exhibitors):
Pick your stage. Find your crowd. By selecting sessions that vibe with your brand, you're not just a sponsor – you're a headliner.
👋 For the meet-and-greeters (Attendees):
Navigate a richer event tapestry with an all-star lineup of sponsors that align with your interests. It's like having a VIP pass to the brands that matter to you.
---
The Big Bang of Building This
Organizers: You're now the maestro of a symphony of sponsors. Conduct your revenue streams and watch them swell.

Exhibitors: Zero in on your target audience in sessions that speak their language. It's strategic, it's smart, it's brand brilliance.

Attendees: Forget sifting through a sea of sponsors. Get a tailored list of brands that match the session's rhythm and your groove.
---
We're all about connecting dots and lighting sparks. With this update, everyone's in the right place at the right time.
What you need to know to get started
Multiple session sponsors will be automatically available to add in your event agenda from Monday 6th November 2023 and is included on all price plans. .

To read more on the event agenda feature, check out our support article, here.
Don't hesitate to get in touch
Have questions or concerns about any of our new features? As always, we're here to help; contact your Account Manager or simply drop us an email at support@grip.events.