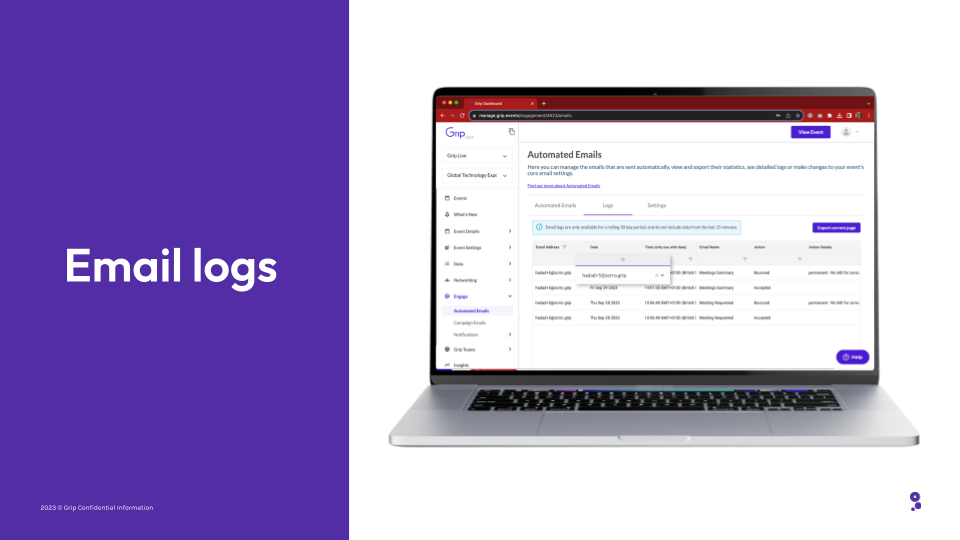 Manage your emails more effectively with new logs in the Grip dashboard
Have you ever found yourself fretting over whether a certain event attendee has actually received an important email? Or maybe you've been curious about which email addresses are incorrect, resulting in undelivered messages.
The new email logs page helps you dive deep into the email data at your event, helping you to troubleshoot or simply manage unsubscribes.
Find out the status of the emails you send
This page allows event organizers to directly query logs from our email system, showing them all the 'events' that have taken place for each email. For example, you can see who received an email, along with whether they've opened it or clicked on a link within, as well as seeing who has unsubscribed or which emails have bounced back for which email addresses.
For the emails that have bounced, or where a link has been clicked, you will see further details to explain why, and which URL was clicked.
You will also be able to export these logs into a spreadsheet, allowing you to store the logs to view later.
What you need to know to get started
The new email logs page will be available in the admin dashboard from Tuesday 3rd October 2023 and is included in all packages.

To read more on how to manage emails within Grip, check out our support article, here.
Don't hesitate to get in touch
Have questions or concerns about any of our new features? As always, we're here to help; contact your Account Manager or simply drop us an email at support@grip.events.