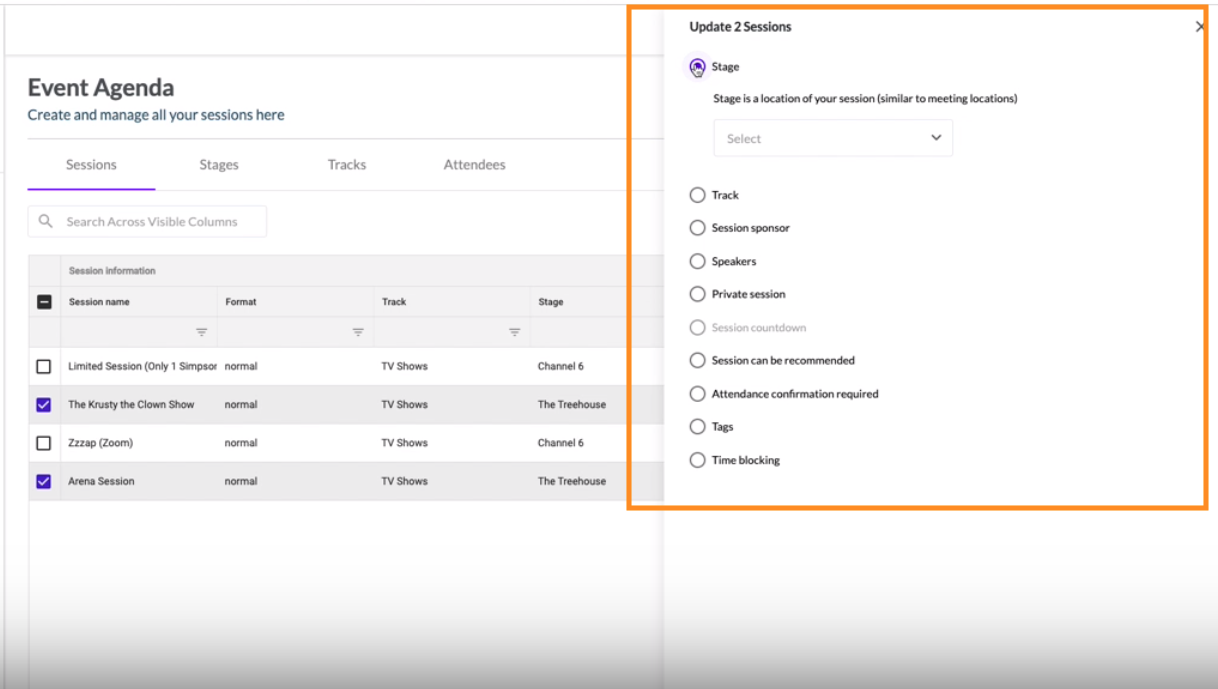 Organisers can now efficiently manage all sessions for their events through the convenient and user-friendly 'bulk edit sessions' feature in the organizer dashboard. This new addition has been developed with the aim of reducing the amount of time organizers spend managing their events in the dashboard. Previously, organisers had to individually view each session in order to make any necessary edits, which proved to be quite time-consuming, especially when dealing with a large number of sessions that required updates, such as moving them to a new stage or track.
With this latest update, organizers can now make a single edit that applies to multiple sessions simultaneously, saving them valuable time and effort. The settings that can be amended include overriding the stage and track of sessions, modifying session sponsors, adding session speakers, including private sessions, enabling or disabling session countdowns, recommending sessions, requiring attendance confirmation, adding tags, and enabling or disabling time blocking.
Minimizing and spotting errors
To ensure that organizers are fully aware of the impact of their changes, validation will be presented both before and after saving. This ensures that organisers have a clear understanding of the modifications they are making. After saving, organisers will receive one of the following notifications: a prompt confirming the successful update of all sessions, a model displaying partial updates or a complete failure to update, or the option to generate a CSV export of any issues encountered during the process. This CSV export will include details such as the Session ID, Session name, and any associated errors or warnings.
What you need to know to get started
The bulk editing of sessions feature is available as standard from the 3rd July 2023 and can be accessed through the organizer dashboard. It is compatible with all event formats, including free-flow and hosted buyer events. This release is automatically enabled, providing organisers with immediate access to its time-saving benefits.

To read more on how to use this new feature, check out our support article, here.
Don't hesitate to get in touch
Have questions or concerns about any of our new features? As always, we're here to help; contact your PM, CSM or simply drop us an email at support@grip.events.