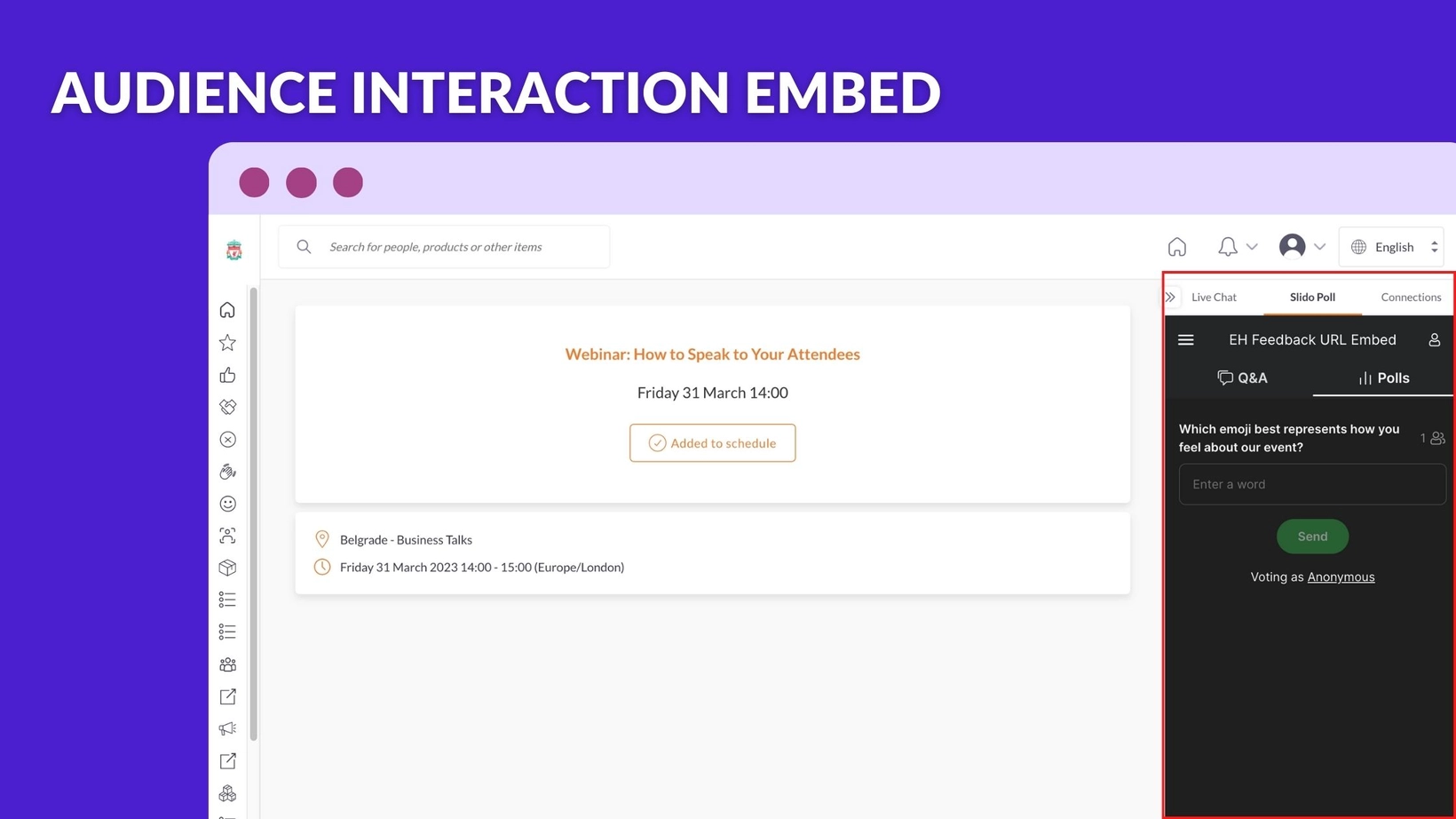 Incorporate an audience interaction iframe into the session details sidebar
This month we're delighted to give you the ability to embed audience interaction tools such as Slido and Conferences.io into the Grip platform. This feature allows you to add a link which is then embedded into the sidebar on the right of the session details page, visible for your attendees while they watch a session. This gives participants unprecedented access to third party tools for polling, Q&A, and even slides; ideal for organizers who already have accounts with audience engagement solution providers.
Improving the experience all round
By adding more options for interaction into your events, you improve the overall event experience for your participants... and for you, too! The benefits are manifold:

Increased audience engagement
By giving participants the ability to participate in live polls and Q&A sessions, you can foster a more interactive and engaging experience.
Better event organization
Utilizing interactive iframes that display slide presentations and other tools within the event program can streamline the session experience, making it easier for you to manage and present information throughout all the sessions on the event.
Greater flexibility
With the ability to embed other tools and platforms, you have more options for customization and enhancement.
Better audience insights
By using these interactive tools in tandem with Grip, you can gather valuable insights about the audience, such as their opinions and reactions to the sessions and event, and can use this information to improve future session and/or events.
And you can easily personalize the experience, too
You also have the option to personalize the Audience Interaction Embed URL, which means that you can create a URL that is slightly different depending on the user that loads it. For example, you can use a Custom Profile Field (sent as part of registration) to load each user's email address into the URL, in order to have the user log into a Q&A web tool automatically.
What you need to know to get started
Audience interaction embed URLs are available in the admin dashboard from Monday 23rd January.

To read more on how to use this new feature, check out our support article, here.
Don't hesitate to get in touch
Have questions or concerns about any of our new features? As always, we're here to help; contact your PM, CSM or simply drop us an email at support@grip.events.