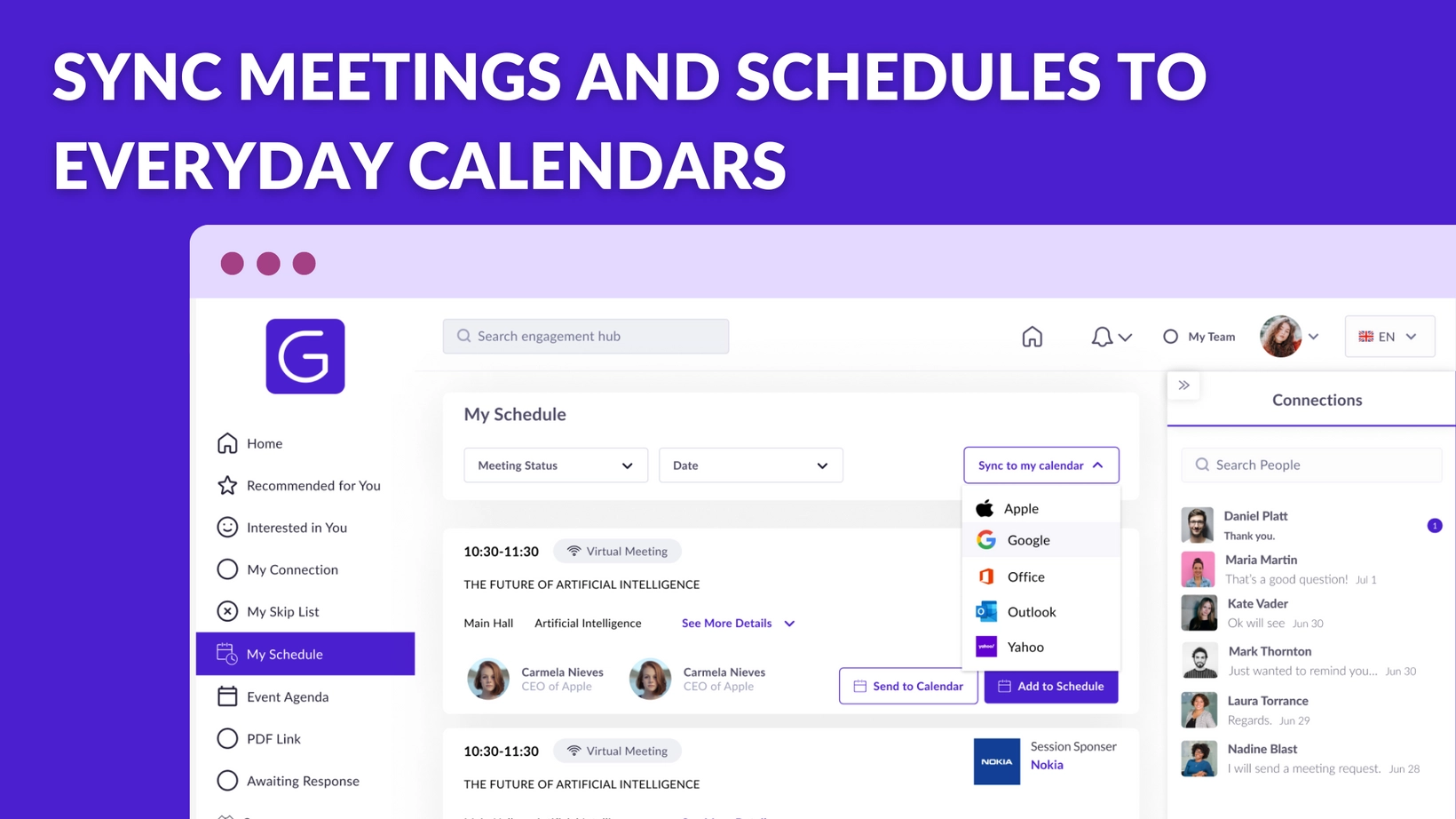 Sync event schedules with personal calendars
Grip calendar sync is a powerful tool that allows participants to keep track of all their event sessions and meetings right alongside their everyday calendar on Google, Outlook, Apple and more! This helps to ensure that participants never miss a meeting or session and also makes it easier for them to keep their schedules organized.
Dynamic updates
Any updates to meetings or sessions will appear automatically in the calendar. For example if a meeting status changes, or a sponsor is added to a session, this will be reflected in your everyday calendar.
All the info you might need
Everything you need for your meeting can be found in the meeting description:
The meeting status - whether it's pending, accepted or cancelled

Each meeting attendees with a link to their profile

Each meeting attendee's company with a link to their company profile

The custom profile fields that appear on each attendee's profile within the web platform

The meeting link (if you're at a virtual event)
Session information can be found in the event description:
Session location

A link to the session web page

Session description

Session speakers with links to their profiles

Session sponsors with links to their profiles
Set up the new integration in seconds, no API key required

Auto-syncing keeps data in both products up-to-date at all times
International participants? Timezones are not a problem
Timezones can be tricky when scheduling events, but thankfully calendars are able to compensate. Meetings and sessions will display in the timezone of the calendar. For example, if the event is scheduled in Paris, but the user is in London, meetings and sessions will display in the London timezone. In the rare instance a user has manually updated their calendar timezone themselves, the meetings will display in whatever the timezone has been set to.
What you need to know to get started
Calendar sync will be available in the admin dashboard from Thursday, 2nd February.

To read more on how to use this new feature, check out our support article, here.
Don't hesitate to get in touch
Have questions or concerns about any of our new features? As always, we're here to help; contact your PM, CSM or simply drop us an email at support@grip.events.